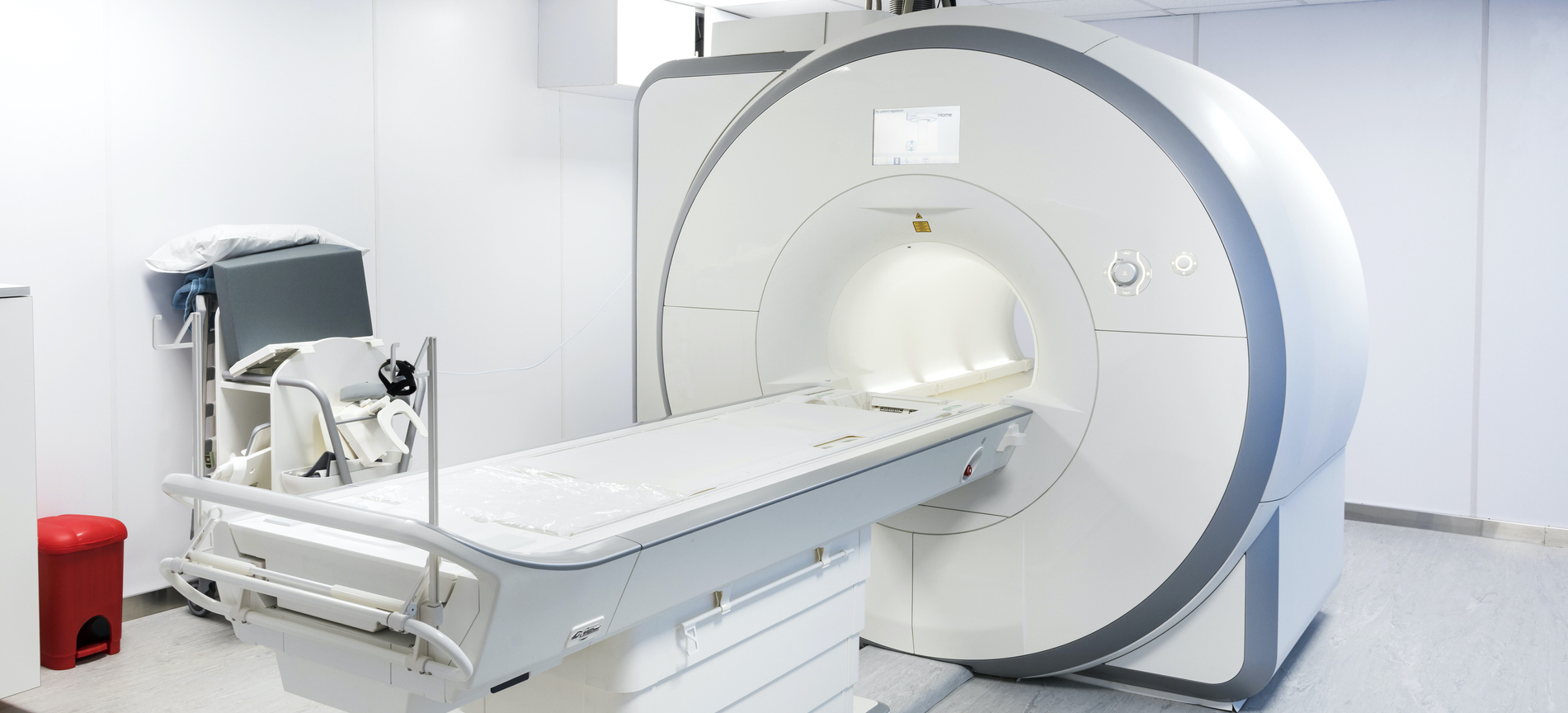 PACED-MRI and PACED-OP
Introducing PACED-MRI.com (Pacing And Cardioverting Electronic Devices peri-MRI Protocol) and PACED-OP.com (Pacing And Cardioverting Electronic Devices peri-Operative Protocol), two online tools for institutions managing patients with pacemakers and ICDs that are undergoing MRI or surgery. Several publications1,2,3 in the medical literature suggest the safety and efficiency of using institutional protocols to direct the periprocedural device management of patients with pacemakers/ICDs. These trials suggest that in most cases, the decision of when to reprogram a device or pace asynchronously can be reached by following a protocol, rather than by consulting the patient's cardiologist.
PACED-MRI.com and PACED-OP.com provide an web-based portal for device representatives or other healthcare providers to input anonymous information and then print out a recommendation based on their institution's periprocedural management protocol. This recommendation can be printed and placed in a patient's chart. PACED-MRI and PACED-OP provide an easy way for teams to specify which provider is on call for questions related to periprocedural device management. Finally, users can setup a reminder text message to be sent to ensure that devices are reprogrammed post-procedure.
Follow the following steps to begin using PACED-MRI.com and PACED-OP.com:
---
STEP 1.
Email us at pacedmripacedop@gmail.com to begin setting up your team, and subscribe to our service at admin.pacedmri.com (or admin.pacedop.com). You will need send us scanned paper copies of your insitution's approved protocols for patients undergoing surgery/MRI (see examples at the bottom of this page).
---
STEP 2.
Once your team is created, anyone can register and join your team. The nurse practitioners (or other providers) that will be taking call for your team can click on the Register button at the top right of the screen and create an account. They can then click Assign On Call in the menu at the top of the screen and specify who is currently on call.
---
STEP 3.
Device Representatives or Perioperative Care Providers (for example, anesthesiologists or nurse anesthetists) can also register and create accounts. These users may log in and generate PACED-MRI or PACED-OP recommendations that follow the logic of your institutional protocols. Once a recommendation is generated, it may be printed and placed in the patients chart. The contact information of the on-call provider will be shown during this process, in case there is a question or situation that falls outside the protocol specifications.
---
STEP 4.
The Device Representative or Perioperative Care Provider can set a text message reminder to make sure the device is reprogrammed after the procedure.
---
---
Example Case #1:
John Doe is a 75 year old man with an MRI-conditional dual chamber pacemaker. He is requiring an MRI scan for back pain. He has underlying intermittant complete heart block and is pacemaker dependent with a lower rate limit of 70 BPM. The device representative is contacted prior to the MRI and enters anonymous information into PacedMRI.com which contains a checklist to ensure the safety of the MRI (there are no abandoned leads in the patient, for example). PacedMRI.com generates the recommendation to program asynchronous pacing (DOO mode) at 90 BPM and put the device into an MRI mode, and the device representative receives a text message alert two hours later to make sure the device has been reprogrammed back to its original settings.
---
---
Example Case #2:
Jane Doe is a 75 year old woman with an MRI-conditional ICD. She is requiring a leg amputation, during which electrocautery is expected. The anesthesiology team enters in Jane's (anonymous) information to PacedOp.com, which generates the recommendation to place a magnet over the ICD during surgery. This recommendation is printed out, affixed with her medical record number, and placed in her chart. The cardiology on-call provider is available if needed but is not contacted because the protocol is followed.
---
---
Sample Institutional Protocol- for PacedMRI.com: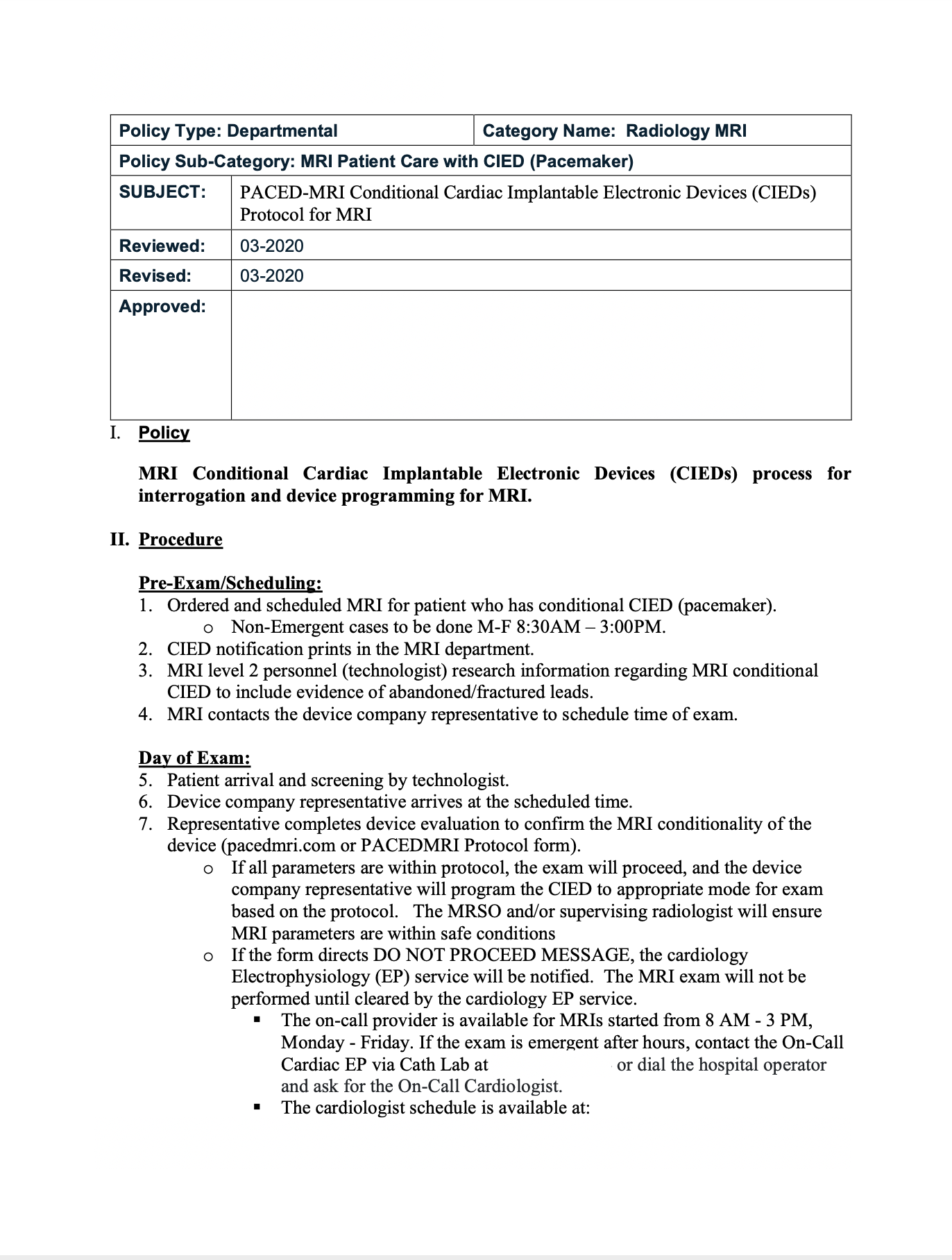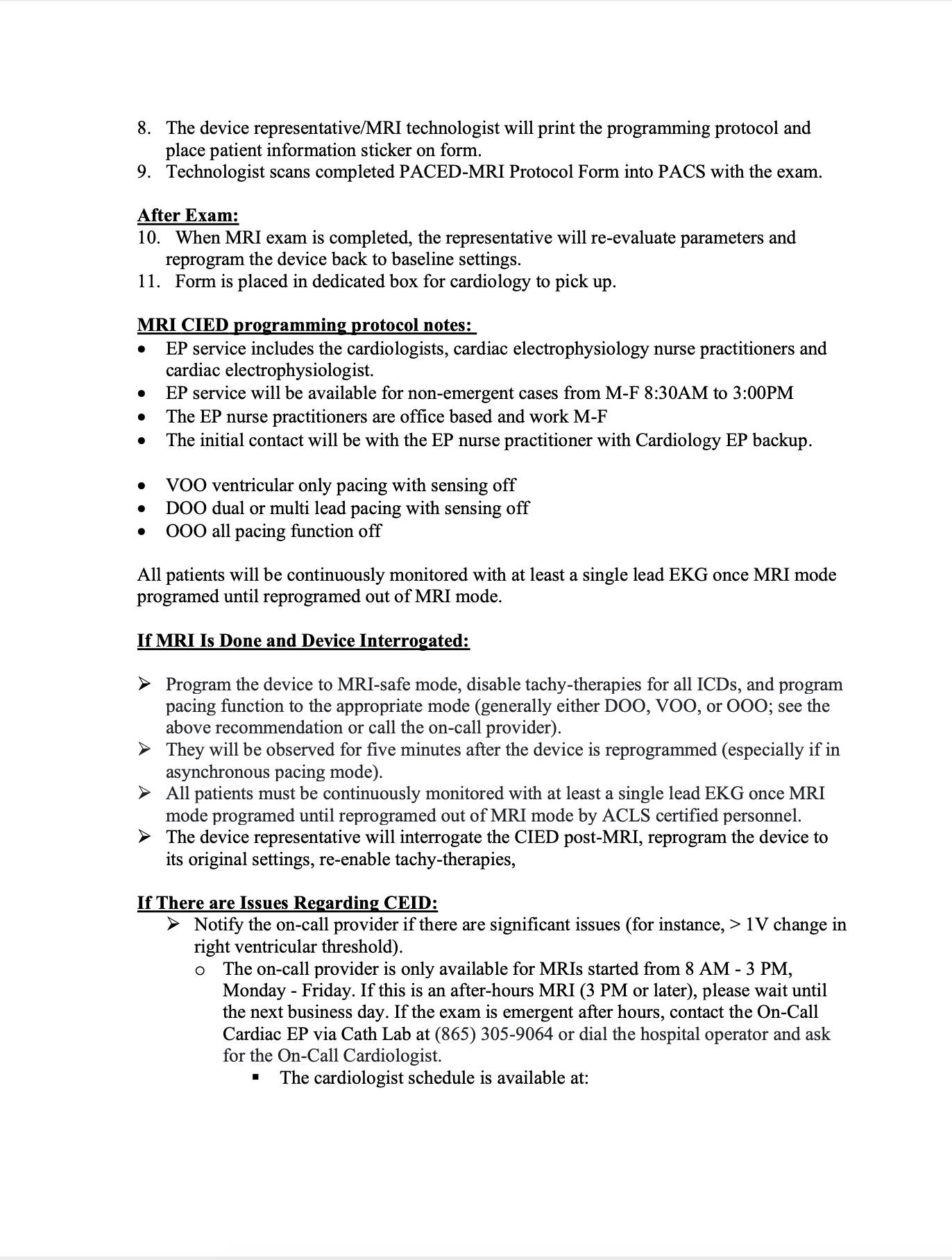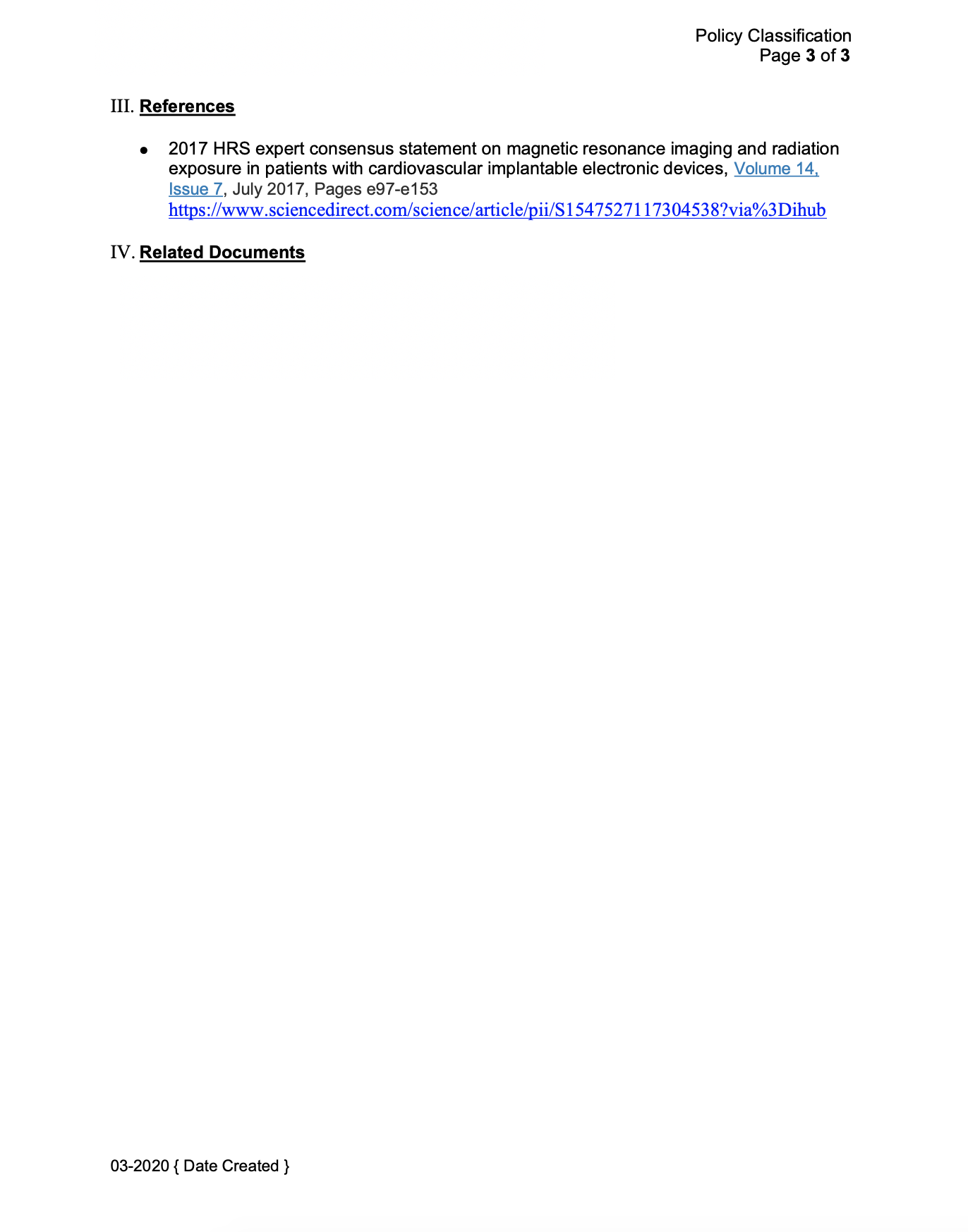 ---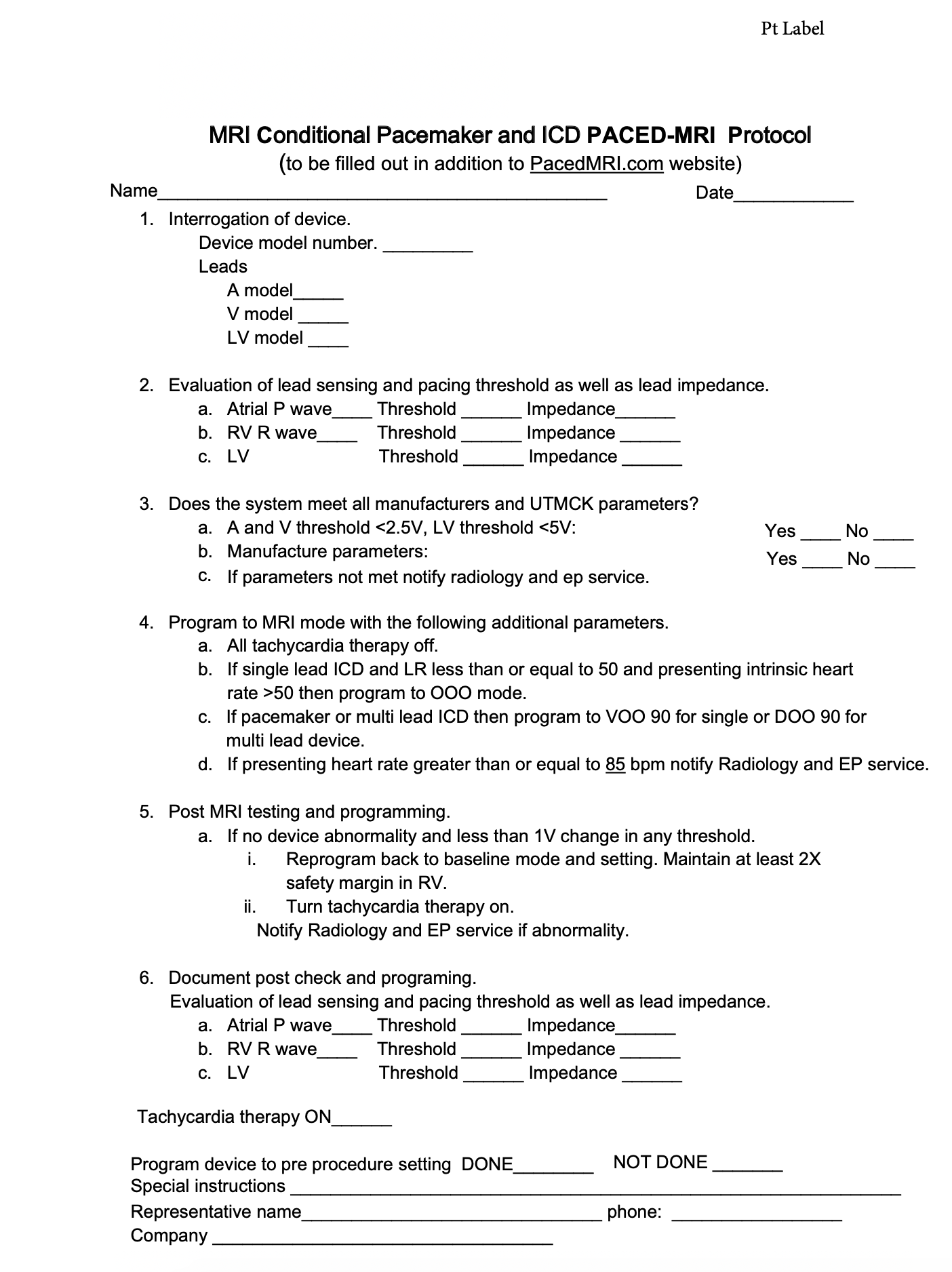 ---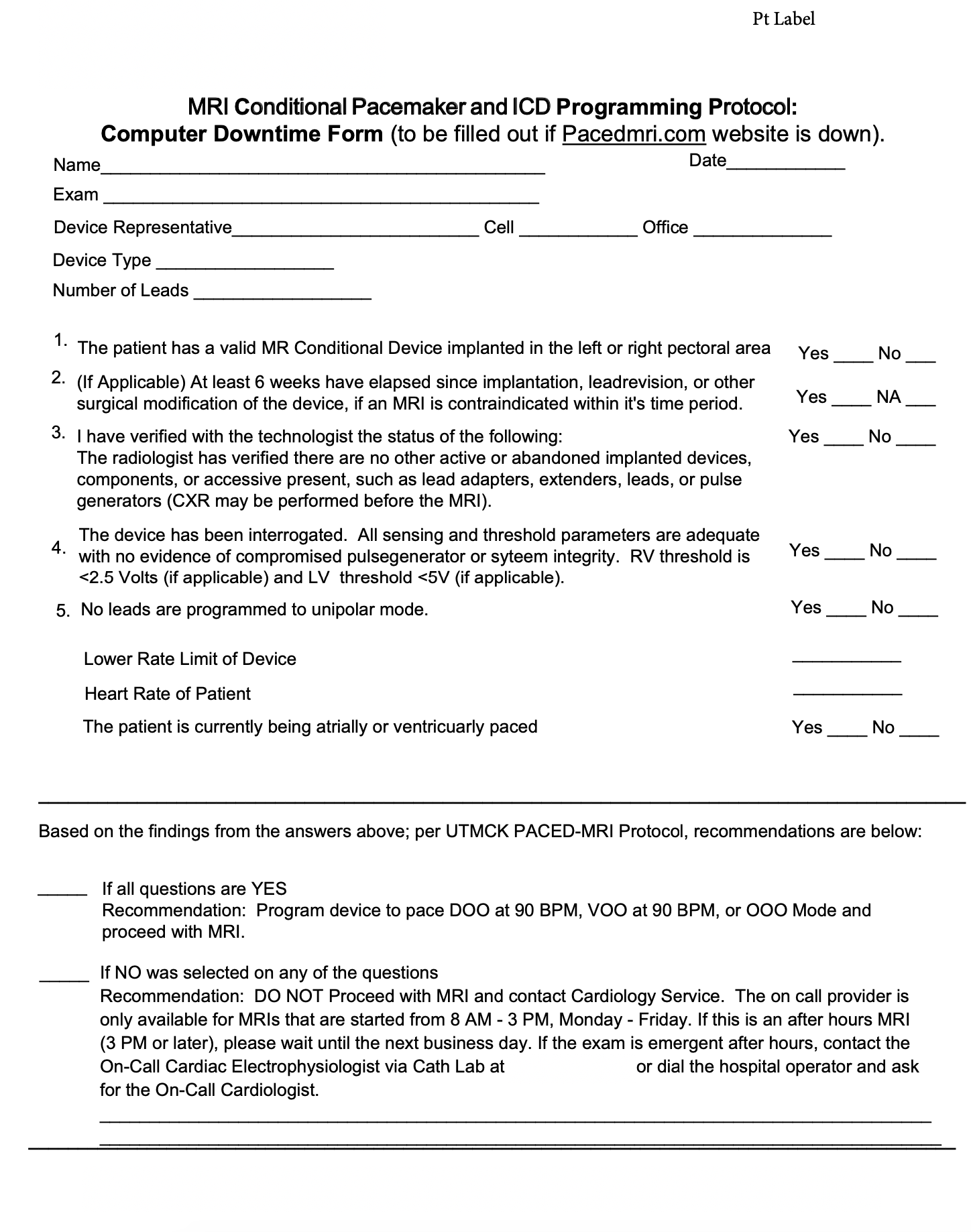 ---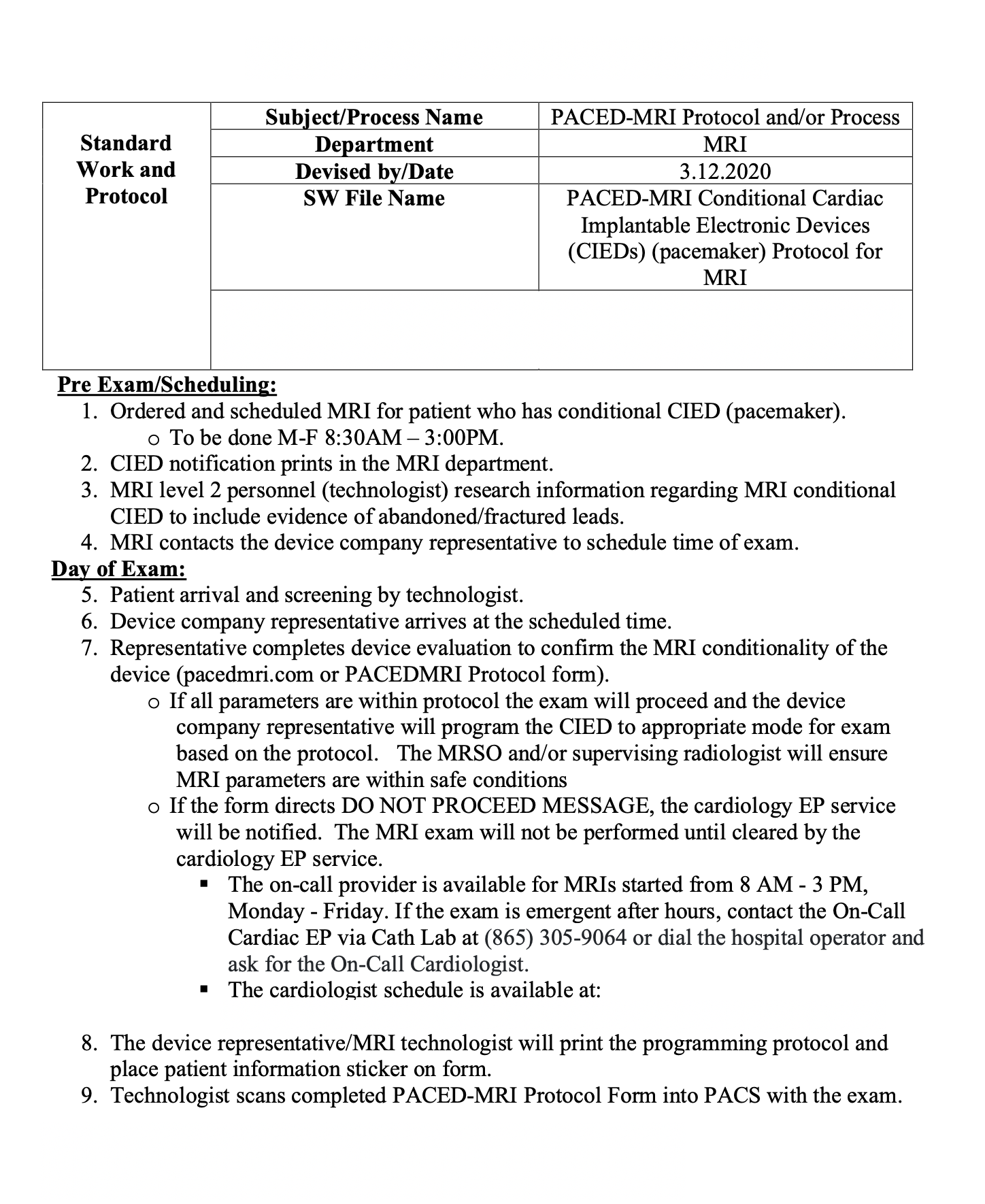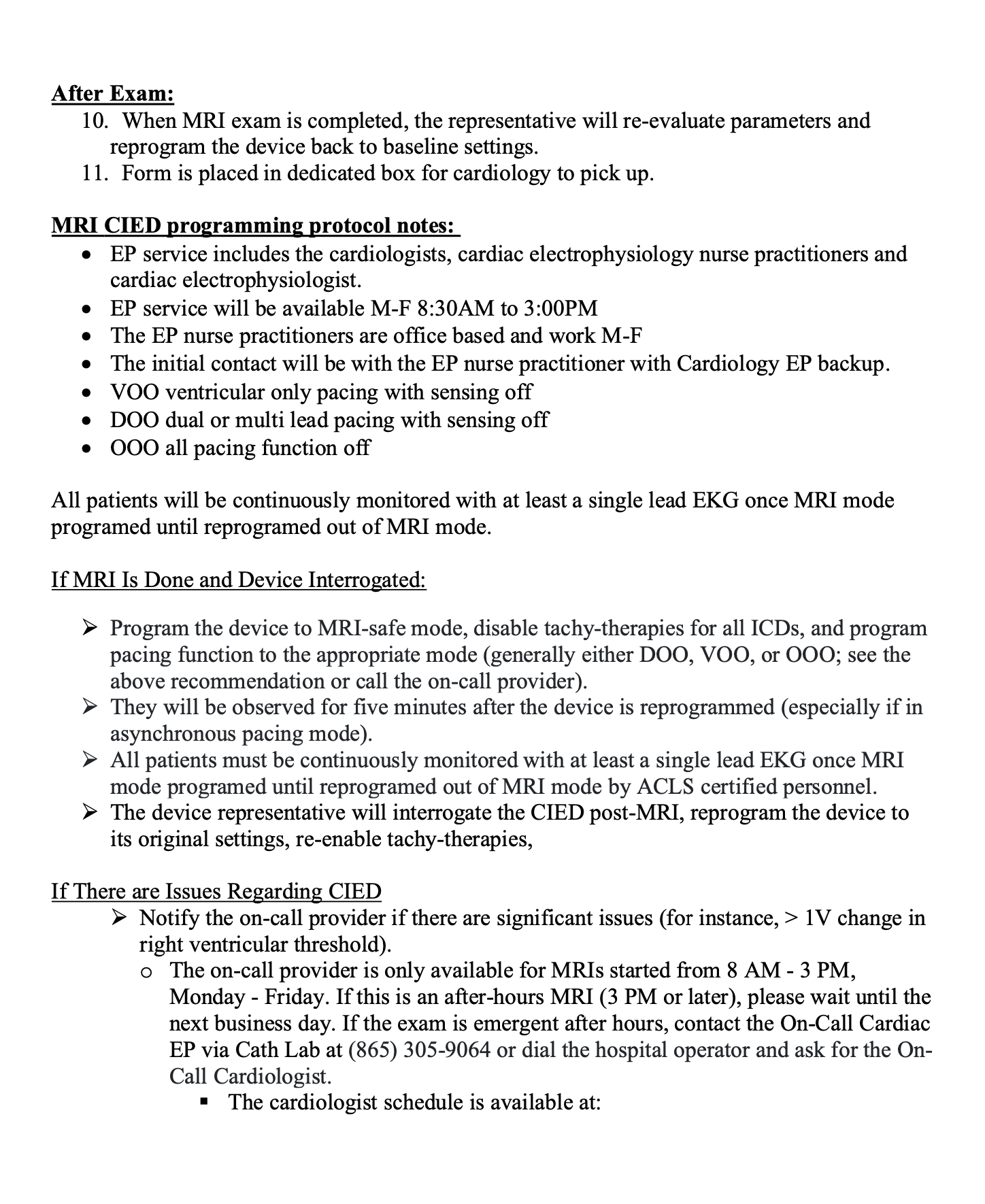 ---
---
Sample Institutional Protocol- for PacedOP.com:
---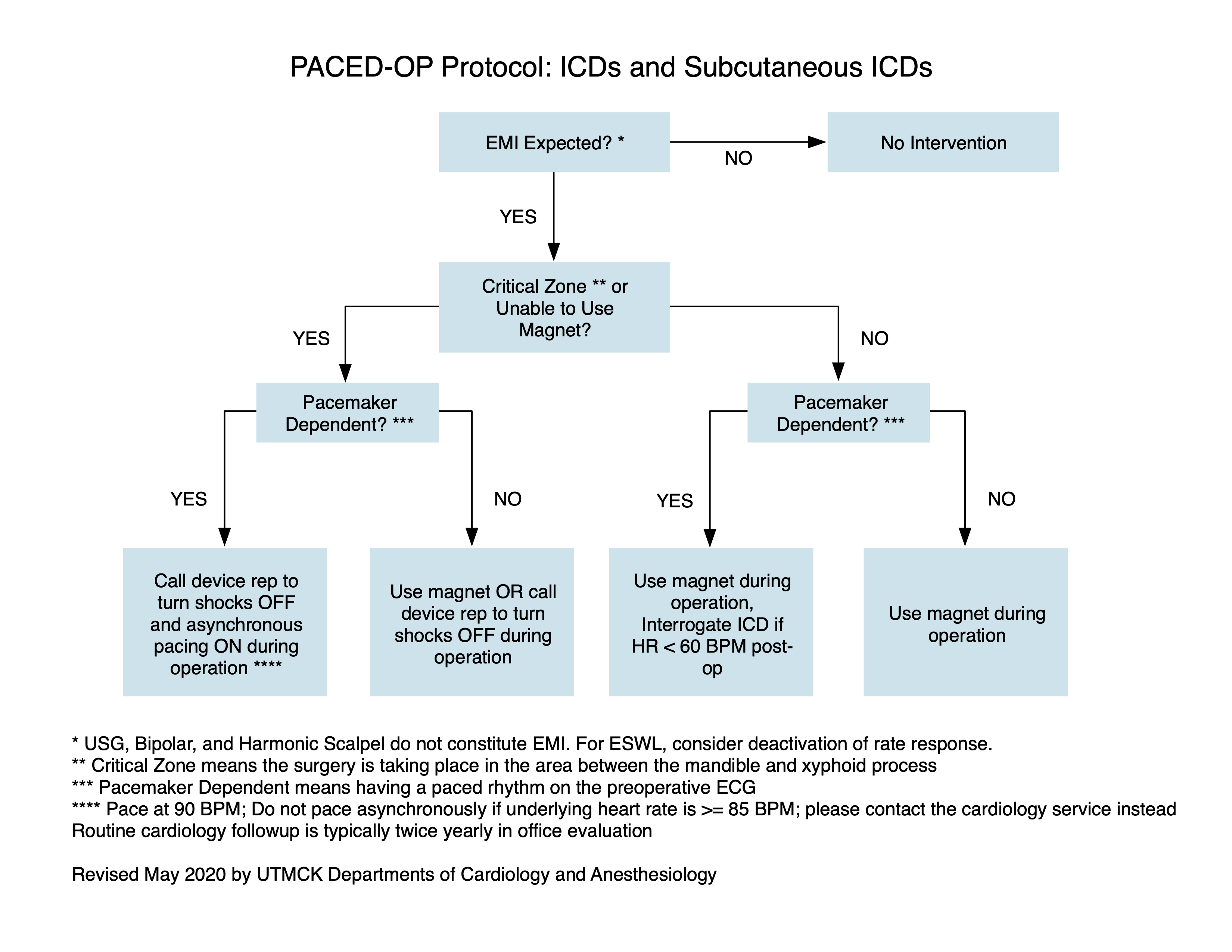 ---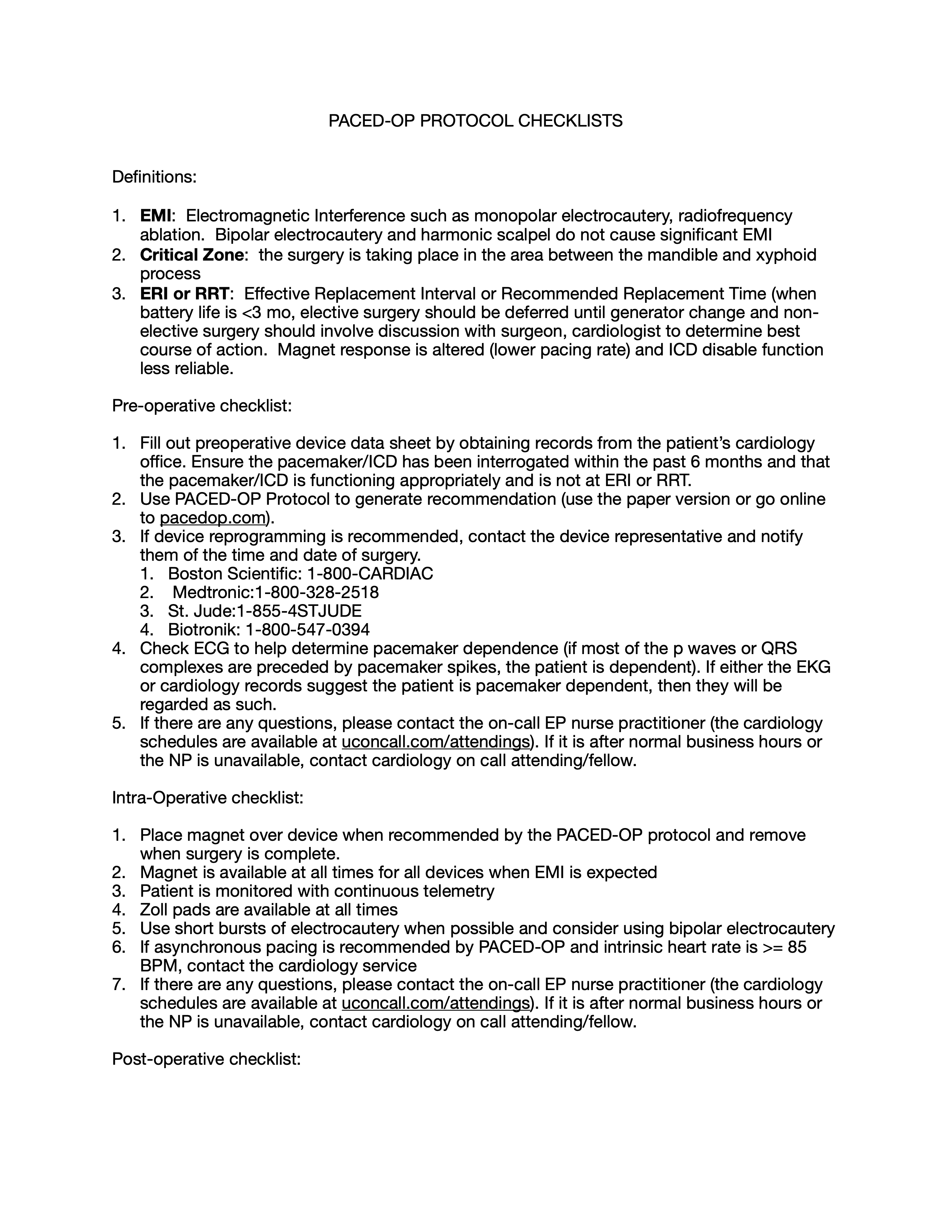 ---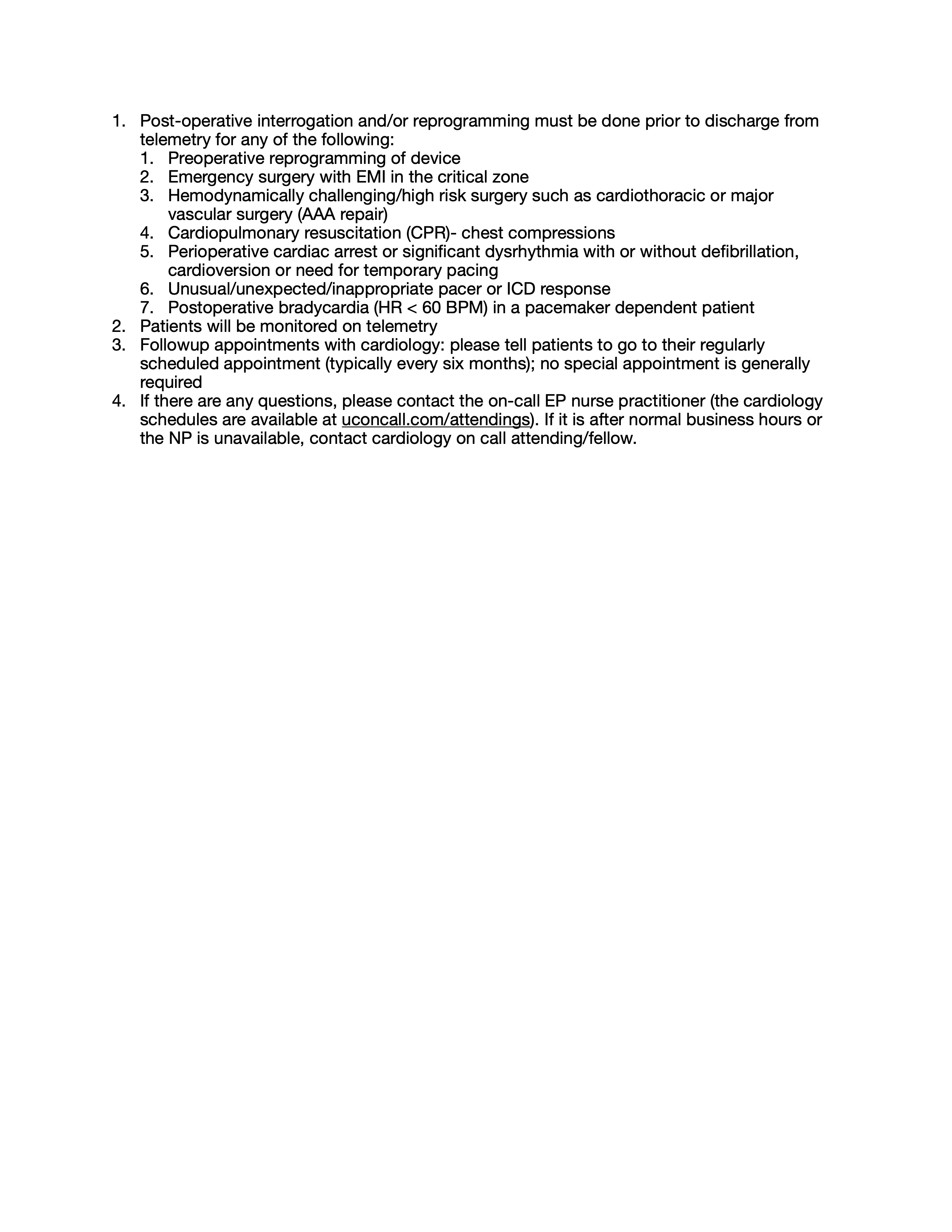 ---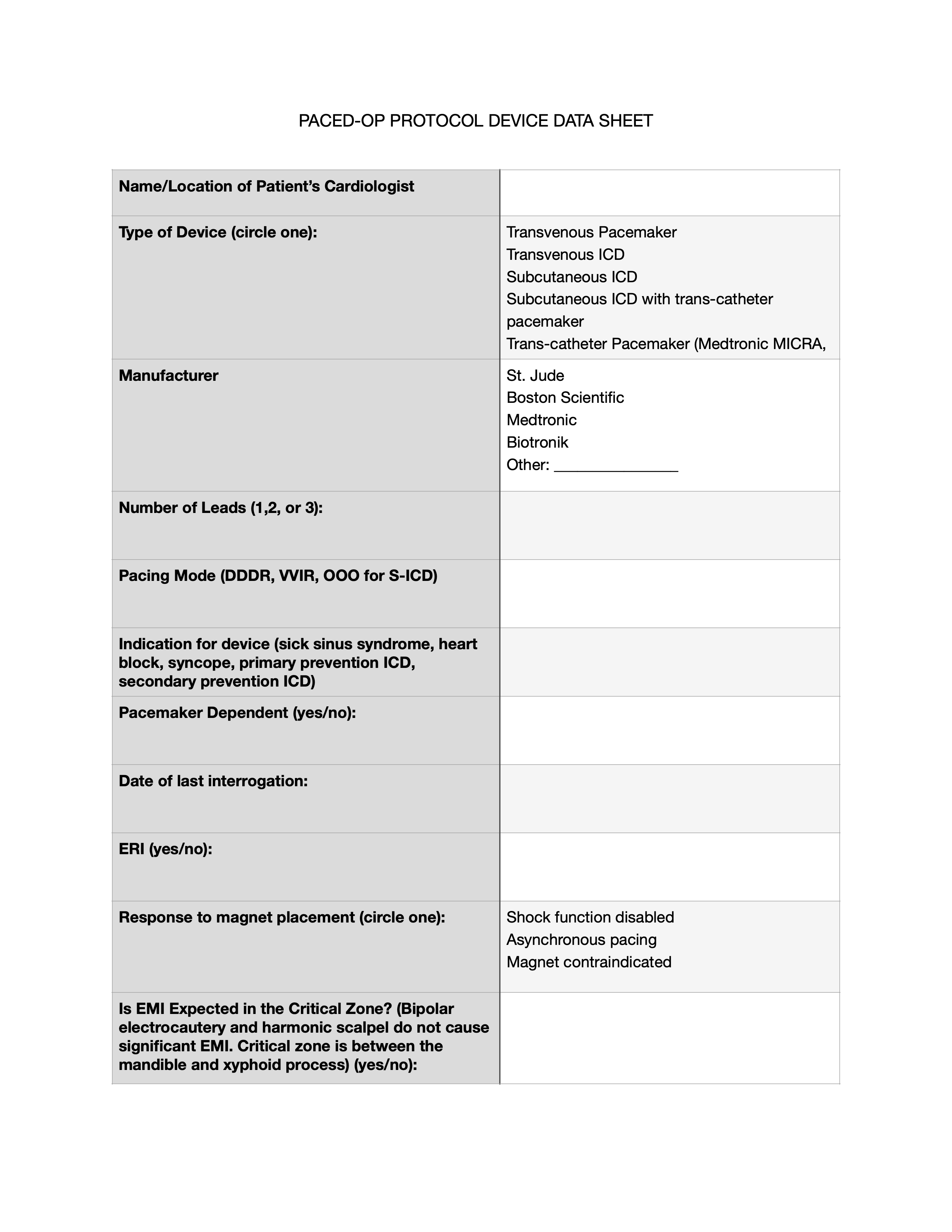 ---
---
References:
1. Mahlow WJ, et al. A perioperative management algorithm for cardiac rhythm management devices: the PACED-OP protocol. Pacing Clin Electrophysiol. 2013 Feb;36(2):238-48.
2. Neubauer H, et al. Comparison of perioperative strategies in ICD patients: The perioperative ICD management study (PIM study). Pacing Clin Electrophysiol. 2018 Nov;41(11):1536-1542.
3. Gifford J, et al. Randomized controlled trial of perioperative ICD management: magnet application versus reprogramming. Pacing Clin Electrophysiol. 2014 Sep;37(9):1219-24.